We are a group of friends who love Vespas. Most of us have known each other since childhood. Between us we rely on our machines to repair, keep them ready and regularly we organize rides to enjoy our Vespas. We know ourselves as KIRIKA VESPA CLUB and we are from Vitoria (Alava – SPAIN)
Almost all these rides end in celebrations in one of the best gastronomic societies of the Basque Country. We almost always end up in KAKITURRI or in UDALAITZ. And during those lunches and dinners, sometimes projects like this arise.
Within the group, we are industrial engineers, machining professionals, economists, journalists, computer scientists, officials, mechanics, lawyers and marketing professionals.
We work hard but we also know how to enjoy.
Like everyone else, we have had to change the wheels of our motorcycles, having great troubles, when we have found ourselves alone.
We always go to scooter outings, but we never fail in the best of all, VESPARABA, organized exceptionally by our friends at Vespa Club Vitoria Vintage. In all editions we have to help a friend who has pricked a wheel.
We have pricked our wheels so many times that in the end we decided to find a solution to this problem and we started.
In August 2019 we designed the first version, which was manufactured in September of that same year.
Once all the technical tests have been passed: Resistance, durability, ergonomics, etc …, and after several prototypes, we considered that it was very selfish not to give the possibility to all the great family of Vespa-lovers, to have access to the solution to this problem. And that funny invention, which emerged during a dinner, became a company project.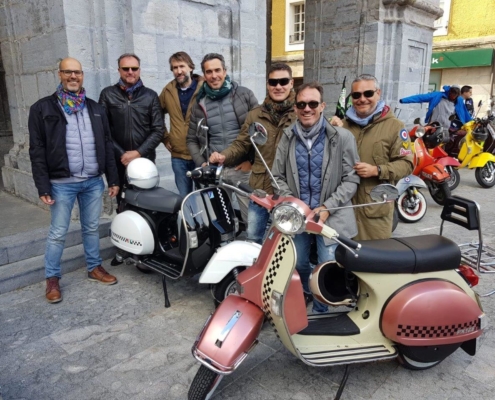 Therefore, in December 2019 we started a patent process to protect the invention.
Since January 2020, the VSK is available for sale exclusively on our website.
The VSK is a tool that is designed and manufactured to be eternal, as tough as our Vespas. The price may seem high, but we will explain why:
It is made of high strength steels.
All parts are surface treated to prevent oxidation.
Bolts in quality 8.8 also comes with surface treatment.
The wheels are made of Nylon and German manufacturing.
The whole set is stored in a waterproof PVC bag to prevent humidity from entering, since we are aware of how little watertight Vespas glove boxes are.
The machining process is done in CNC machines to ensure repeatability in the quality controls to which we submit all parts.
The assembly is done by our expert staff, under controlled tightening torques.
The packaging is intended to be sent by postal mail and can be sent through our partner GLS throughout Europe. We also ship outside of Europe, but we do that in a personalized way. The packaging is robust and protects the equipment effectively.
We can guarantee that our product will not leave you indifferent and when you prick your wheel, you will be able to follow your ride in a few minutes.
Click to add your own text here
Click to add your own text here
Click to add your own text here
Click to add your own text here
Click to add your own text here
Click to add your own text here
Click to add your own text here
Click to add your own text here